Residential Painting
Cooper Painting opened its doors in 1960 as a residential painting company, and today residential home painting is about one half of our yearly work. We ensure a quality result by implementing separate teams that are dedicated to, and specialize in, specific aspects of interior or exterior painting. Cooper Painting staff tailor and dispatch these employee teams according to their strengths, to best meet your painting needs. Please feel free to visit the
Registrar of Contractor's
website to view our license (# ROC181408), or contact us for a list of client references.
Below are some of the residential services that Cooper Painting offers to our customers:
- Interior and Exterior Repaints
- Custom Wood Staining
- Epoxy and Stain Concrete
- Roof Coatings
- Drywall and Stucco Repairs
- Custom Color Consultations
- Fence and Gate Painting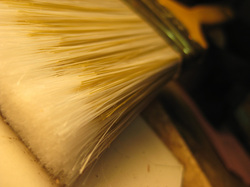 Before You Hire A Painting ContractorProtect Yourself
In addition to requesting proposals, it is important to look into the details and history of a contractor before you hire a qualified painting professional. It is important for your protection that you take your time and verify the competence of the company that you choose to do work in your home. Listed below are a few of things that we at Cooper Painting think are important to look into. Remember, preventing a painting disaster before it occurs is much simpler than correcting one that has already occurred.
We recommend that you:
· Call or visit the Registrar of Contractors website to ensure that the contractor has a valid ROC license and is in good standing with the ROC. Phone: 602-542-1525 or Website:
http://www.azroc.gov/clsc/AZROCLicenseQuery
· Make sure that the contractor not only has a Registrar of Contractor license, but that they are also licensed in the city that you live in. You can request a copy of the City license from the Contractor, or contact the City directly to verify.
Verify the reliability of the painting contractor through third party companies.
· Check to make sure that the proposal your received includes:
-The contractor's name, address, phone number and ROC license number
- Payment terms and conditions
· Verify that the contractor has Worker's Compensation insurance and Liability insurance. You can request certificates as proof of both for your protection.
Beware of Contractors who:
· Offer a fast, cheap job if you "act now!"
· Request money up front to start a job
· Are not licensed in both the State and City for the work they are contracting
---



Cooper Painting Inc., Casa Grande, AZ 520-836-3941